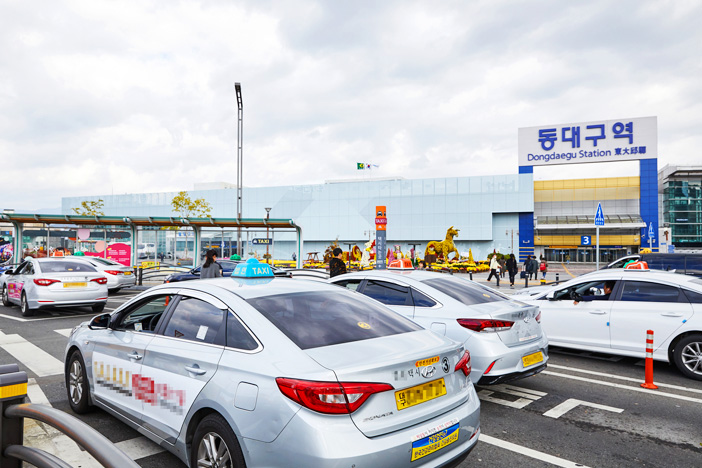 【 Photo: Taxis in Korea 】
Taking a taxi in Korea is very convenient for international visitors, with an increasing number of taxi drivers being able to speak English. Taxis can be found at taxi stands in most busy city areas or hailed on the streets. There are also call taxis that can be requested by phone call or mobile application. However, tourists should note that call taxis start with a higher base fare than the taxis you flag down on the street.
The base fare will vary by region, but taxis all use the same fare calculation of increase by time and distance traveled. While virtually all taxis operating in the Seoul area accept credit cards or transportation cards, it is possible that some taxis in the outlying or isolated regions may request cash only. Keep this in mind and make sure to have some cash (in Korean won) with you if you plan to use a cab in remote areas.
Differences between call vans and jumbo taxis
Differences between call vans and jumbo taxis

| | Call Van | Jumbo Taxi |
| --- | --- | --- |
| Fares | Negotiated with the driver beforehand depending on the luggage size/quantity/weight (Minimum size: 40x40x40 cm / Minimum weight: 20 kg) and travel distance. | Same as deluxe taxis. Additional charges apply when using a call taxi or taking toll roads. |
| Exterior Signage | Look for "VAN," "CALL VAN," "용달화물," or "콜밴" on the body or top of the car. | "JUMBO TAXI" or "대형택시" is indicated on the vehicle. |
International Taxi
Korea offers special international taxis, which are driven by taxi drivers who can speak one or more foreign languages such as English, Japanese, or Chinese. International taxis look the same as standard taxis, except they feature the words "International Taxi" on the body and top of the car.

【 Photo: Exterior of International Taxi (Credit: International Taxi) 】
Usage information
Reservations:

Accepted via call center (+82-2-1644-2255 / Korean, English, Japanese, Chinese), e-mail (reserve@intltaxi.co.kr), and through their official website.
* International taxis can be used without reservation by visiting the airport information desk.

Operating hours:

24/7 (Call center: Monday-Friday 09:00-18:00 / Saturdays 09:00-13:00 / Closed Sundays & public holidays)

Fares

[Incheon International Airport → Downtown Seoul] Flat rate based on five zones of Seoul
[Gimpo International Airport → Downtown Seoul] Calculated by meter based on distance traveled

Payment methods :

Cash (Korean won), international credit cards (MasterCard, Visa, AMEX, Unionpay, JCB) or Tmoney.

Website :

www.intltaxi.co.kr (Korean, English, Japanese, Chinese)
International taxi information desk locations
Incheon International Airport:

Terminal 1 Arrivals Hall 1F, between Gates 4 & 5 (Desk 23) - Open 24 hr / Terminal 2 Arrivals Hall 1F Gate A, right-hand counter - Open 24 hr

Gimpo International Airport:

International Passenger Terminal 1F, between Arrivals Gate 1 & 2 / Open 10:00-23:00
Call Taxi
A passenger may call for a taxi whenever needed, hence the term call taxi. An additional fee may be charged for the call service, but call taxis are considered safer than regular taxis hailed on the street as the driver's name and taxi's plate number are given upon making a call. Most call centers only offer services in Korean, so travelers who do not know Korean may have difficulties in using the call service.
Taxi Fares (as of September 27, 2021)
Standard Taxi [mid-size]
Base Fare

3,300~3,800 won
Region

Varies by region
Fare Increase

Calculated by distance traveled
Details

20% surcharge applies during late-night (00:00-04:00) and when traveling out of the city
(In Busan, Daegu & Incheon, 30%~40% surcharge applies when traveling out of the city)
Deluxe & Jumbo Taxi
Base Fare

3,900~6,500 won
Region

Varies by region
Fare Increase

Calculated by distance traveled
Details

No surcharge for using deluxe and jumbo taxis
(Except Daegu: 20% surcharge applies for late-night, and 40% surcharge applies when traveling out of the city)